This site design is perfect for those who want to make their message prominent and keep distractions to a minimum.
Here are some of the unique features that make August stand out:
1. Bold Navigation
August's left-side navigation is visible no matter how far you scroll and stands out against any background
2. Uniform Colors
This design's minimalistic look and feel is perfectly complimented with consistent, uniform color palettes.
3. Text/ Photo Section Layouts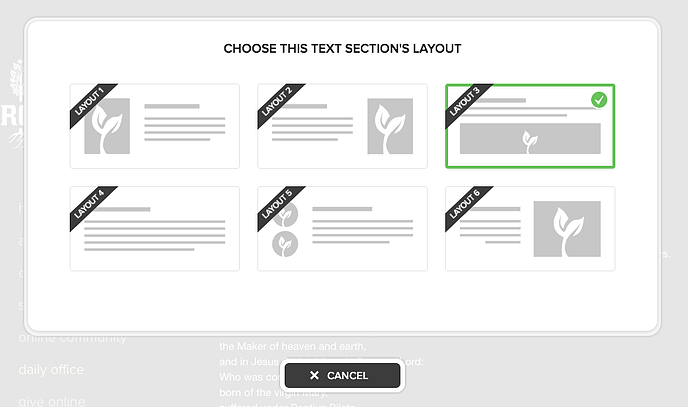 4. Prominent Text
Minimal photo space allows this design to put more of a focus on important sections of text on your page.
August Dimensions:
These dimension sizes allow for retina optimized photos and are recommended for best results. Keep in mind, there may be times you need to make slight adjustments to help them look just right.

All dimensions are in pixels​
Logo: 488 x 404
Gallery: 2264 x 1062
Mobile: 1062 x 1062
Layout 1: 572 x 768
Layout 2: 572 x 768
Layout 3: 2052 x 856
Layout 4: All-Text Section
Layout 5: 376 x 376
Layout 6: 940 x 620
List Page List: 380 x 380
List Page Grid: 446 x 446
Event Image: Event Image Size is in a 4:3 ratio. Some sizes can be 400x300, 800x600, 1600x1200, etc.

Background Images: Since a Text Section changes size depending on how much text you enter into the section, we do not have a set size for Background Images. Any photo you upload to the section should work! We recommend using a larger size photo if possible. You can learn more about Background Images here.
Updated