After three years of building, we're proud to share with you our most powerful website-editing tool: Clover Sites 3. Now you have even more freedom to create a beautiful website for your ministry, using many of the familiar concepts you've grown to love with Clover Sites Classic, but with tons of new features and functionality. And, best of all, we're giving this new product to you for free!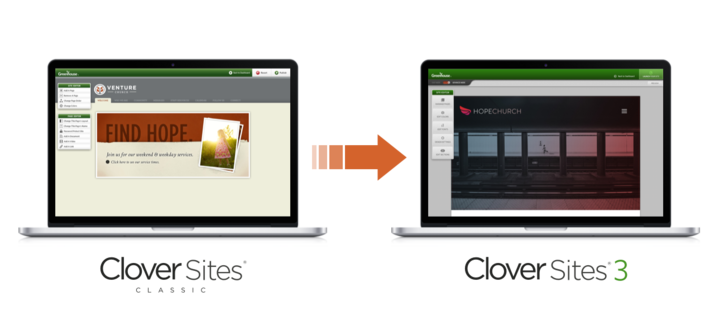 Beautiful New Designs
Clover Sites 3 features brand new site designs created in HTML5 from the ground up, each with their own modern layouts and unique design strengths. All websites created with Clover Sites 3 are built around section-based pages, which means that you can add as many different sections as you'd like to every page on your site. This gives you the flexibility you need to represent your ministry and makes it really easy for your people to browse your content without having to wade through a ton of pages.
More Power and Flexibility
We've been listening to your feedback over the past seven years and now we've handcrafted a more powerful version of our website editor, while maintaining the ease you grew to know and love. With the new Greenhouse, you can change the look and feel of your page by choosing from a wide spectrum of colors and fonts.
Ready for Any Device
With over 60% of people browsing on mobile devices, it was incredibly important for us to rebuild Clover Sites with mobile users in mind. That's why every design for Clover Sites 3 is natively responsive and created so it looks amazing on any device that your visitors use, including the latest smartphones and tablets.
Get Inspired
Now, more than ever, you don't need to be a web designer to create a beautiful and incredibly powerful website for your ministry. We're very proud to highlight some live sites designed by real customers - we hope these will help inspire you as you work on your new site!
Updated