Designed with the modern church in mind, Aurora allows you to add a blurred effect to your background photos as well as featuring a mobile-style navigation that stays out of your way until you need it.
Here are some of the unique features that make Aurora stand out:
1. Blurred Backgrounds
This exclusive feature for Aurora enables you to add an eye-catching blurred effect to your background images.
2. Contained Content
All of Aurora's content is surrounded by a large, spacious border to give your site an organized, uncluttered feel.
3. Text/Photo Section Layouts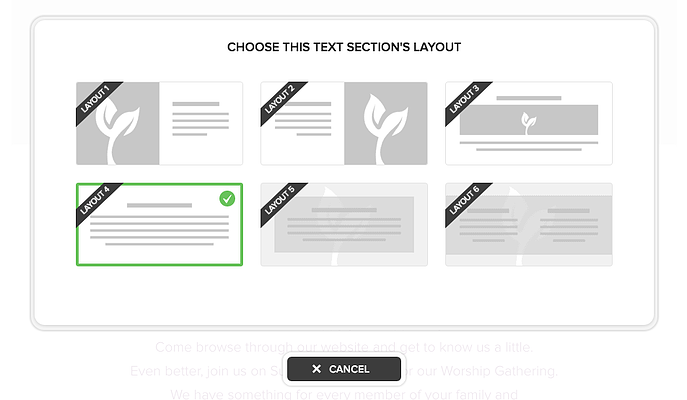 4. Hidden Navigation
Aurora's navigation stays out sight until it's needed, so your pages remain clean and elegant.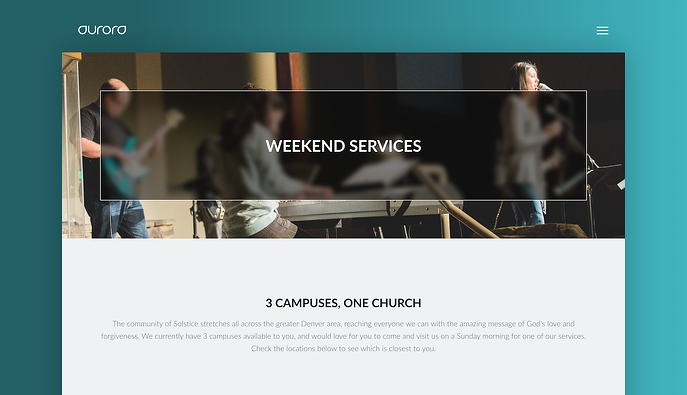 Aurora Dimensions:
These dimension sizes allow for retina optimized photos and are recommended for best results. Keep in mind, there may be times you need to make slight adjustments to help them look just right.

All dimensions are in pixels​
Logo: 500 x 120
Gallery: 2460 x 1214
- Mobile: 1214 x 1214
Layout 1: 1180 x 1142
Layout 2: 1180 x 1142
Layout 3: 2048 x 872
Layout 4: All-Text Section
Layout 5: 2360 x (varies depending on content)
Layout 6: 2360 x (varies depending on content)
List Page List: 398 x 398
List Page Grid: 398 x 398
Event Image: Event Image Size is in a 4:3 ratio. Some sizes can be 400x300, 800x600, 1600x1200, etc.

Background Images: Since a Text Section changes size depending on how much text you enter into the section, we do not have a set size for Background Images. Any photo you upload to the section should work! We recommend using a larger size photo if possible. You can learn more about Background Images here.
Updated