Choosing Your Site Design
When you preview our site designs it's important to keep in mind that some of the things that set them apart, such as the color palette or use of parallax scrolling, are actually features that can be used and changed on any site design. Here are the features that are actually unique to each site design:

Logo Size - Each site design's logo box is a different size, so some designs work best with text-based, banner style logos while others may look better with taller or more evenly proportioned logos. You can view them all by heading over to our Designing Your Site topic and viewing any of the individual site designs.

Navigation Style - The way your navigation is displayed is another key difference that sets each of the site designs apart. For example, Solstice has a sticky nav that is always visible no matter how far down you scroll whereas Boulevard's nav is always anchored to the left side of your page, like in the image below.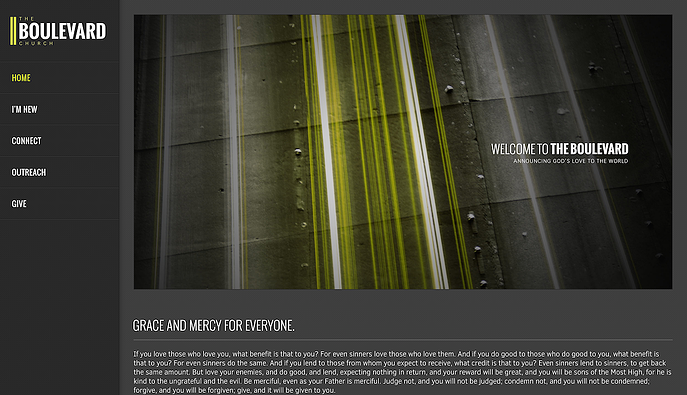 Uniquely Shaped Photo Areas - Although all of our site designs offer standard square-shaped photo areas where you can place your images, two of our designs also feature uniquely shaped photo areas. Zion has diamond and triangle shaped photo areas for a modern, sleek approach whereas Bloom uses round areas for a warm, welcoming feel. It's also important to keep in mind that every site design has differently sized photo areas (including for gallery and list sections). Below is an example of Zion's diamond-shaped photo areas.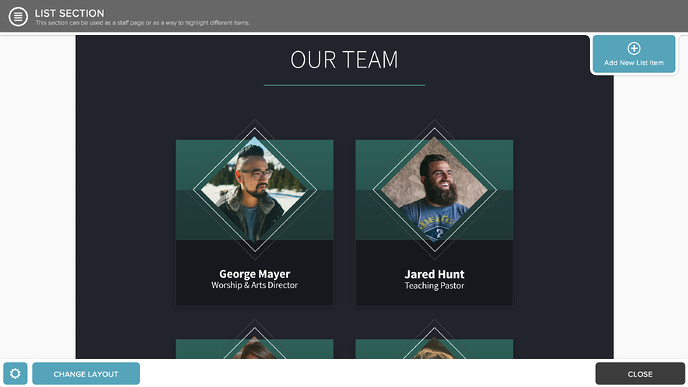 Here are some other things to keep in mind when choosing your site design:
You can preview and demo all our available site designs on our website at any time. These previews should give you a good idea of what makes the designs unique and the different strengths each one can offer your ministry.
If you have any questions about which site design is the best for your church, please feel free to contact us - we'd love to help you find the perfect design for your ministry.
Switching Site Designs
If you've already chosen your site design but think a different option might be a better fit for your ministry, no problem - we've decided to make switching site designs completely free. If you'd like to change your site design, find out what design you'd rather use and then click here to see our article on redesigning your site.
Keep in Mind:
Once we switch the design, the Dashboard will show both your current site and the redesign. You will want to spend some time making sure the new design looks great. Then, once you're ready to show off your newly designed site, click Publish in your redesign and everyone will see the changes you've made.
Updated