Incredibly approachable, Bloom looks great with rounded and rectangular image areas. This design offers a feeling of motion and depth with unique scrolling animation.
Here are some of the unique features that make Bloom stand out:
1. Smart Navigation
Your navigation automatically adapts to look great with your top section's background color.
2. Round Images
Bloom includes creative photo spaces that crop to round images, rather than the traditional square blocks.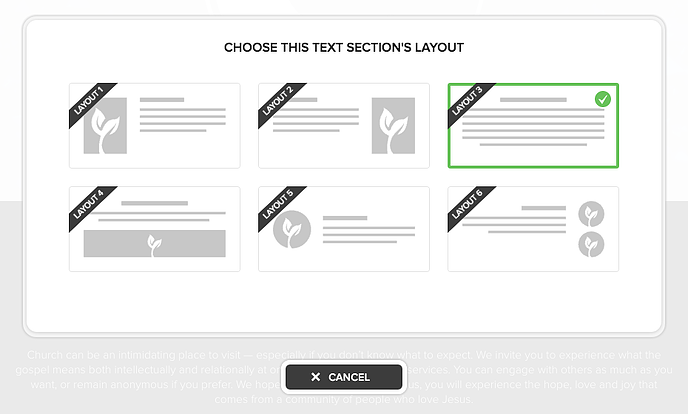 3. Smooth Desktop & Mobile Navigation
No matter what device visitors use to view your site, navigating through your pages is an elegant and seamless experience.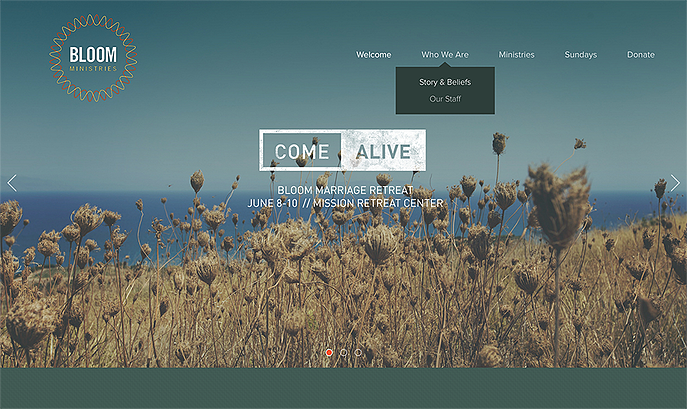 Bloom Dimensions:
These dimension sizes allow for retina optimized photos and are recommended for best results. Keep in mind, there may be times you need to make slight adjustments to help them look just right.

All dimensions are in pixels
Logo: 540 x 360
Gallery: 3132 x 1674
- Mobile: 1674 x 1674
Layout 1: 696 x 896
Layout 2: 696 x 896
Layout 3: All-Text Section
Layout 4: 2396 x 898
Layout 5: 618 x 618
Layout 6: 454 x 454
List Page List: 378 x 378
List Page Grid: 466 x 466
Event Image: Event Image Size is in a 4:3 ratio. Some sizes can be 400x300, 800x600, 1600x1200, etc.

Background Images: Since a Text Section changes size depending on how much text you enter into the section, we do not have a set size for Background Images. Any photo you upload to the section should work! We recommend using a larger size photo if possible. You can learn more about Background Images here.
Updated