Once your form is completed, you will be able to see the submissions within your Form Builder (located in the Dashboard). You can also set up your form to notify you via email whenever someone completes a form submission. The email notification will contain all the information that was completed on the form.
To see the form responses in your Form Builder, simply click on the response link.

Once you click on the number of responses, the list of responses will populate. You can then click on each individual response to see the information that was submitted.

You can also download all the form submissions into one CSV file by clicking Export As CSV in the bottom right hand corner. You can open a CSV file with Microsoft Excel or Numbers (for Mac).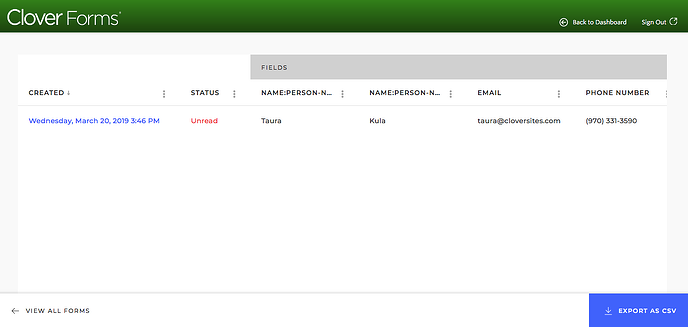 Keep in Mind: Form responses cannot be deleted at this time. Anything submitted remains in the response list for that form. It will also continue to be exported anytime you choose to do so. Adding this ability is in as request to be made available, however a timeline of if or when it will be released has not yet been provided.
Updated