You can easily redesign every aspect of your text throughout your site, including the size and style, or just change one thing, like the spacing between characters in a section.
NOTE: Since the embed code comes from a 3rd party product, Clover Sites is unable to guarantee it'll work consistently throughout your site or the Greenhouse. Because this is an advanced feature, Clover Sites Support is not able to support issues with custom embed/HTML code.
Editing Text
Step 1 - Click within a text section to begin editing

Step 2 - Highlight the portion of the text you'd like to adjust

Step 3 - Make any adjustments to the text using the Text Editor toolbox

Step 4 - When you're finished, click Close

Heads Up:
If you copy text from somewhere other than your website and try to paste it in, you may end up with a result that looks something like this: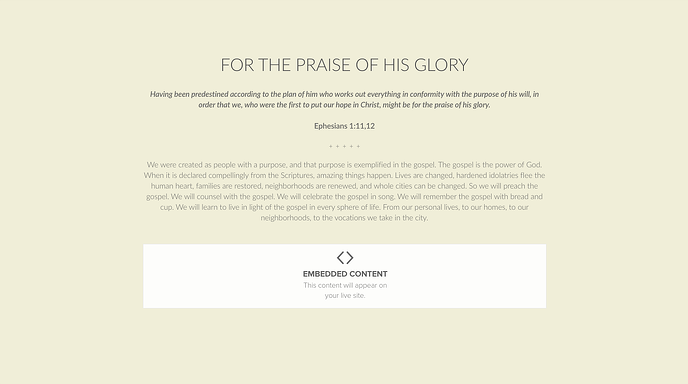 If you see this message you are pasting text that is formatted incorrectly. To avoid this issue, make sure to remove formatting before pasting in the Text Editor. If you're using a Mac, you can do this by holding down COMMAND+SHIFT+OPTION and hitting V. If you're using a PC, simply hold down CTRL+SHIFT and hit V.
Additional Text Editor Features:
Within the Text Editor there are some features (and icons) to keep in mind!
Embed Code/Edit HTML
You can easily embed all kinds of content directly into a section on your site. Simply paste an embed code right into the text section.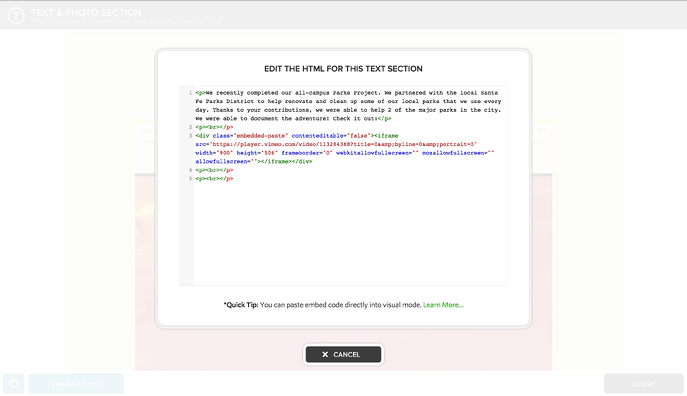 If you'd like additional control over the code, feel free to utilize the source's site tool as well. In Advanced Mode (or click More from Easy Mode) simply click the Edit HTML button (<></>) and paste your embed code.

For a more thorough walkthrough check out our Embed Code article!

Keep in Mind:
Because this is a more advanced feature, customer relations may not be able to support issues with your HTML/Embed Code.
We convert all embedded videos to a 16x9 aspect ratio so that we can properly scale for mobile responsiveness.
Font Editor
While in Advanced Mode, you can easily change fonts by highlighting any portion of text and clicking the font name in the bottom left of the toolbar. From there, you can click the desired font to change the text.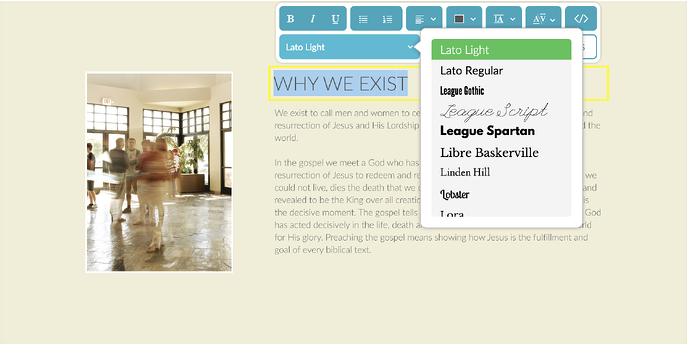 Be sure to also edit the size and color if needed!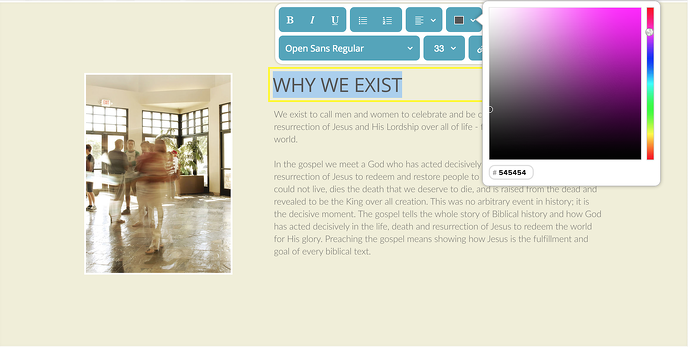 For more info on changing font palettes check out the Changing Fonts help article.
Letter & Line Spacing
While in Advanced Mode, click the Line Spacing and Letter Spacing icons near the top right of the toolbar.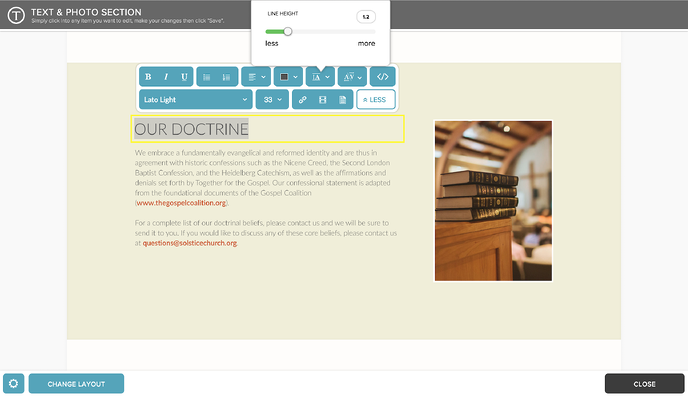 From there you can quickly edit and see a live preview of the spacing between each letter and each line!
Clear Formatting
If you made changes to the font size and want to revert back to the standard font selection for the site, simply highlight the text and select the Clear Formatting button. This will change the text back to the text option you began with.

In the example below, you will notice how it changed the bolded scripture text back to default by removing the bold effect.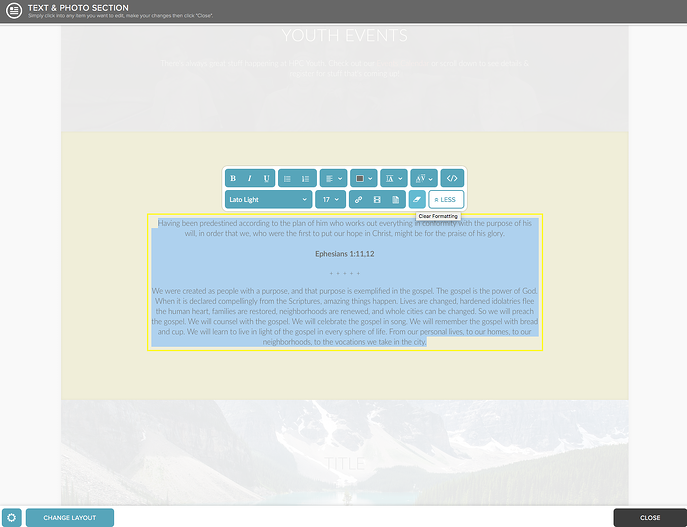 Adding a Link, Video, or Document
You can easily link text to other pages in your site, external web pages, email addresses, videos, and documents. Simply click the Link, Video, or Document icons to get started.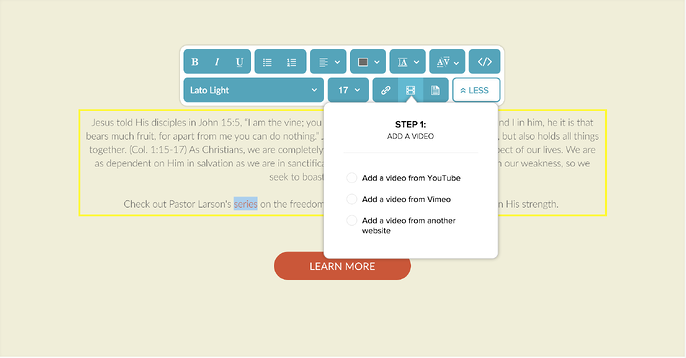 Adding a Button
Buttons can be inserted with the "[+]" button in the text editor toolbar in Advanced Mode, or by checking "style as a button" when inserting a link/document/video.


Visit our article on adding buttons to learn more.
Updated