Search engine optimization, commonly called SEO, is one of the biggest ways to help guide traffic to your website. Optimizing your website means taking steps to make sure your site is one of the top search results for search engines like Google and Bing. This article will cover the steps and best practices you can take to improve your SEO.
What Does Clover Do For You?
Here are a few things that can really help with your SEO that we've already taken care of (so you don't have to):
Sitemaps
Sitemaps are files that tell search engines how your site is organized by listing out all of the pages contained within. Search engine web crawlers will use these maps to more accurately crawl your site. The sitemap also provides web crawlers with important meta data on how often you update your pages and how important each page ranks as a whole on your site. If you'd like to view these sitemaps, simply add /sitemap.xml to the end of your URL.
Description Meta Tags
A page's description meta tag is a summary that tells search engines what kind of content is on a page of your site. This summary usually consists of a few sentences or even a paragraph that goes into detail about what a visitor will find on that page. The first few lines of text on every page are used to create a description for that page (this is good to keep in mind when adding content to your pages). Search engines may display this text in results when viewers are looking for your website. Additionally, the first few lines of text on your homepage serve as the description meta tag for your entire website.
Titles
We assign a title to every page on your website to make it easier for search engines and visitors to better understand what's contained on each page. To do this, we take the title of your organization (for example, let's say your church is called Bloom Ministries) and the name of that specific page (such as a "Donate" page). We separate these two identifiers with a pipe and the result is a title that should look something like this:

Choose Descriptive Keywords (And Use Them Often)
Keywords are words or phrases (typically no more than three words long) that you think people will search for when looking for your website. Proper use of keywords on your site is one of the biggest things you can do to improve your website's SEO ranking. You'll want to use your keywords in strategic places across your site. Google's webcrawlers will determine what your keywords are based on how often and where they are being used. This means you should be using them enough that web crawlers recognize them as keywords and not overusing them to the point that they become spam. Good places to use a keyword on your website include:
Page names - when you are naming the pages on your website, it's a good idea to consider using your keywords in the name and making your page names as descriptive as possible.
Bolded in regular content.
Links on your site that redirect to other pages - any of the links on your website that redirect to your other pages are a great place to use keywords. Just make sure the keywords make sense in the context of the link.
Geolocation keywords - Google knows that when someone is searching for a business or organization, they are specifically searching for something that is actually near them. So, if one or more of your keywords is a location Google will recognize them as such. It's a great idea to put an address on multiple or all pages on your website - especially the home page (using your footer is the best way). Your organization's phone number is another helpful piece of information that should appear in multiple places on your site (once again, especially the home page).
Link to Your Site from Blogs and Social Media
Using Blogs
Having a blog associated with your website, and updating it often, is one of the best ways to keep your SEO ranking high on Google and other search engines. Like we mentioned above, if the blog can link to you using the keywords you're targeting this will improve your SEO.
Using Social Media
Today, it's pretty much imperative that you have at least a Facebook and Twitter account linked to your website, if not an Instagram, Pinterest and more. Linking to your website from these accounts is helpful for your SEO. Make sure you are updating these social media accounts often with engaging content.Submit Your Domain Name
One of the best things you can do to improve your SEO is submit your domain name to search engines, especially Google and Bing. This will encourage search engines to crawl your site and will make it easier for you to improve your ranking.
To submit your domain name to Google head to the Google Search Console and type your URL in the space provided. Check the box to indicate that you're not a bot and then click Submit Request.
To submit your domain name to Bing head to the Bing Webmaster and type your URL in the space provided. You'll have to prove that you're not a bot by typing the characters from the picture and then clicking Submit.
Google also offers additional ways for you to better make use of their resources, including setting up Google Webmaster Tools and signing up with Google My Business. Signing Up for Google Webmaster Tools Setting up Google Webmaster Tools is a great way to see how Google views your site and what you still need to do to improve your SEO. With Google Webmaster Tools you'll gain access to detailed technical insights such as what keywords Google thinks you should be using and what 3rd party sites are currently linking to your site. This tool can also tell you if you're doing anything that Google is penalizing you for. Here are the steps you need to follow to sign up for Google Webmaster Tools:

Step 1 - First, you'll need to sign up for a Google account. This will provide you with a Gmail address and give you access to Google's tools.

Step 2 - Head over to Google Webmaster Tools and type your website's URL into the space provided. Then click Add Property.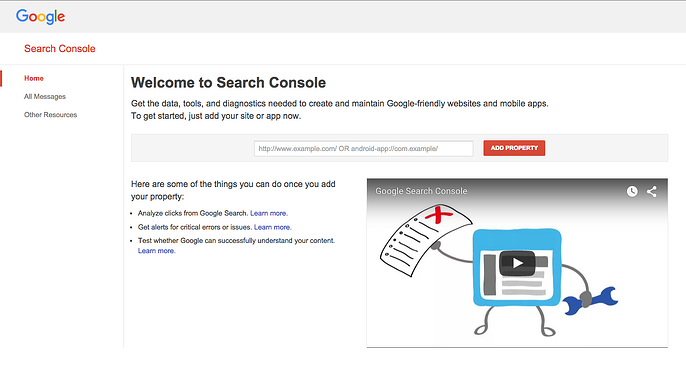 Step 3 - Google is going to ask you to verify that you own your domain. Choose the Meta Tag option.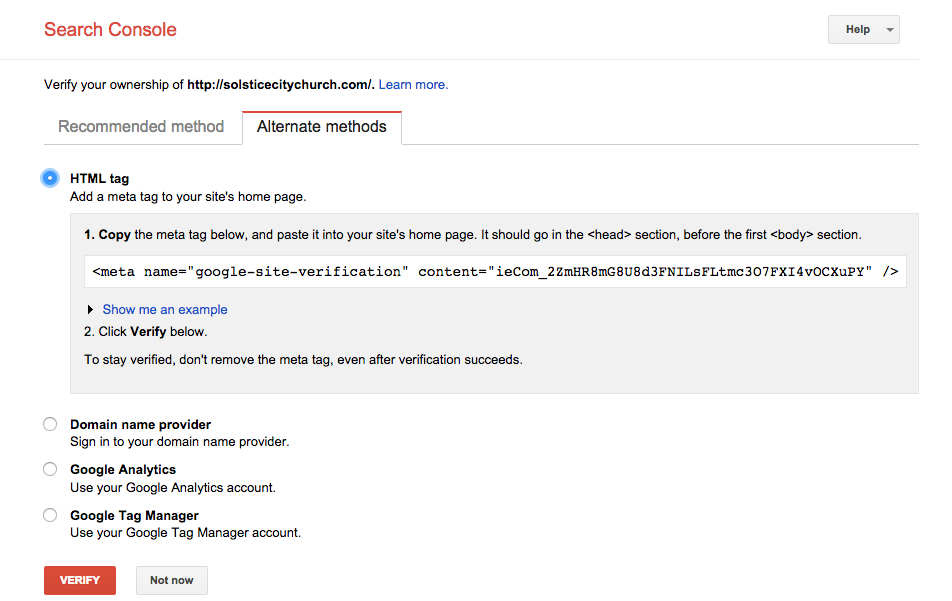 Step 4 - Paste the code that they provide you with into the CustomCode section of Design Settings in your Greenhouse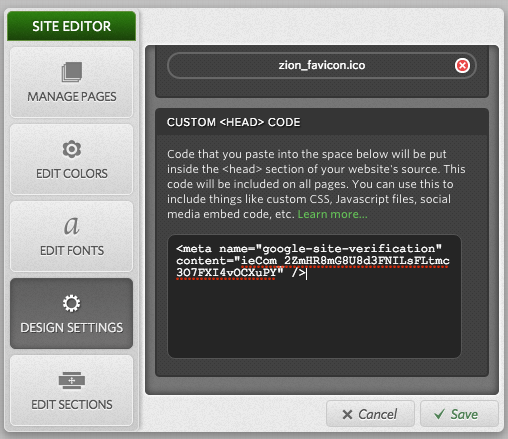 Step 5 - Head back to the Google Search Console and click Verify
Signing Up for Google My Business
Signing up for Google My Business will help your website appear on Google Maps, which will help people in your area find your website much more quickly.

Step 1 - Head over to Google My Business and click Get On Google. If you do not have a Google account, you will need to create one to proceed. Otherwise, log in with your Google account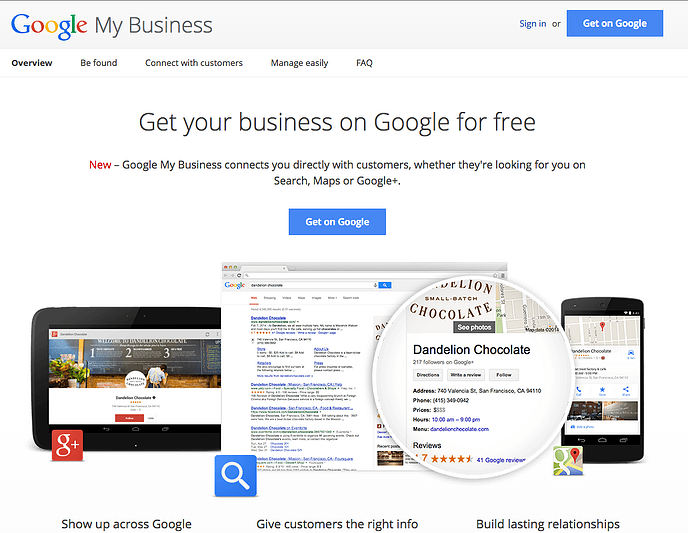 Step 2 - Type the address and name of your business into the search bar and click on the correct result (or add your business, if it does not appear)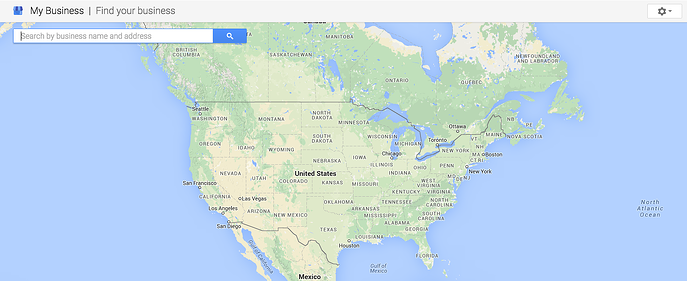 Step 3 - Provide the geographic information that Google asks for, including the category your organization fits under.

Step 4 - You will have to verify your account. Google usually does this by sending a postcard to the address you provided with a verification PIN attached, although at times you are able to complete this step over the phone or via text (this is much faster and we recommend it if you get a chance)

Step 5 - Agree to the terms and conditions and click continue to create a Google+ account for your business (in order to have a Google My Business account, you will have to sign up for Google+ account)
Keep in mind:
Once a new domain name is live, Google and other search engines usually take about 6 weeks to start pulling in search results. In the meantime, we suggest you inform your viewers that they'll need to enter your website address directly in the top URL search bar until Google and other search engines index your site.
Google will penalize you for any "black hat techniques" you use to get a better search engine ranking. This includes using keywords in hidden lines (or using any method to hide your keywords), spamming keywords on your pages, having more than one URL associated with a page and duplicating any pages on your site.
Adding new, quality content to your website often (ideally, you should be updating each page on your site once a week) and having a site that is easy to navigate will be a big help to your SEO ranking.
Updated