Google and many of the major search engines and browsers are pushing to make the internet as secure as possible. They are going so far as to penalize web sites that are not protected by an SSL certificate. Adding an SSL certificate to your site today will help make sure that congregants and seekers alike can find your website as easily as possible. It will also ease your website visitors minds if they submit a form or use a password protected page, giving them certainty that no one can intercept the information that they share with you. As always, our features are totally free to add, so adding SSL to your site is at no cost to you!
As Clover Sites receive FREE SSL encryption as an included benefit of being a Clover Sites member, there is no need nor benefit to generating a CSR or installing a 3rd Party SSL certificates upon your website.
Step 1 - From your Greenhouse Dashboard, click the More button, and then click on Domain Management.





Step 2 - Make you sure you have 2 domains added for your domain
1. yourdomain.com
2. www.yourdomain.com.

Click the Enable SSL toggle to activate it.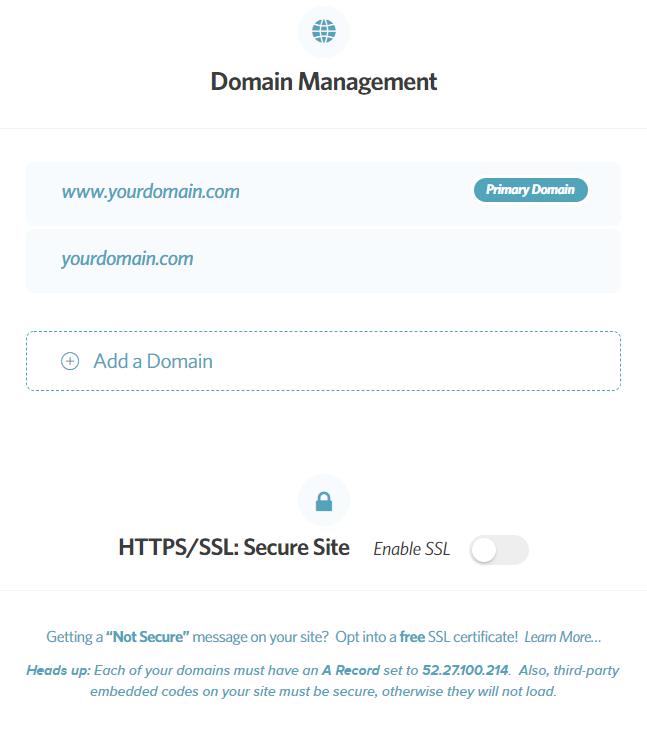 It may take up to an hour for the SSL to install and save on your domain.


Keep in Mind:
If you add SSL to your site and have embedded code on your site that is not secure (http), the code will not appear. You will need to retrieve secure code (https) from your provider so it appears on your now secure site.
Updated