This site design is modern, and simple, with a stacked style of site navigation. With so many ways to make it unique, this is the Swiss Army Knife of our designs.
Here are some of the unique features that make Anthem stand out:
1. Simple, Open Design
The Anthem site design allows your content to stand out and look great with a light or dark color palette.
2. Vibrant Sections
Strong colors look great on this site design and can make visitors feel like each section is a new, unique experience.
3. Text/Photo Section Layouts
4. Contained Grid Items
Anthem's grid items give you more freedom to be creative with your list sections.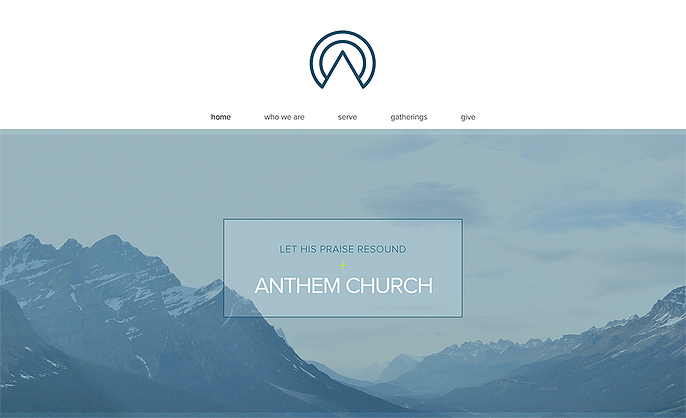 Anthem Dimensions:
These dimension sizes allow for retina optimized photos and are recommended for best results. Keep in mind, there may be times you need to make slight adjustments to help them look just right.

All dimensions are in pixels
Logo: 720 x 374
Gallery: 3338 x 1404
- Mobile: 1500 x 1262
Layout 1: 718 x 718
Layout 2: 718 x 718
Layout 3: All-Text Section
Layout 4: 2196 x 668
Layout 5: All-Text Section
Layout 6: 432 x 432
List Page List: 476 x 462
List Page Grid: 512 x 496
Event Image: Event Image Size is in a 4:3 ratio. Some sizes can be 400x300, 800x600, 1600x1200, etc.

Background Images: Since a Text Section changes size depending on how much text you enter into the section, we do not have a set size for Background Images. Any photo you upload to the section should work! We recommend using a larger size photo if possible. You can learn more about Background Images here.
Updated