Embed Code
You can easily embed all kinds of content directly into a section on your site. Simply paste an embed code right into any text section - yes, it really is that easy! By embedding code, your content from your provider will display right on your site!
NOTE: Since the embed code comes from a 3rd party product, Clover Sites is unable to guarantee it'll work consistently throughout your site or the Greenhouse. Because this is an advanced feature, Clover Sites Support is not able to support issues with custom embed/HTML code.
Step 1 - Find the code you want to embed (If you need help finding the embed code check out this article)


Step 2 - Paste the code directly into a text section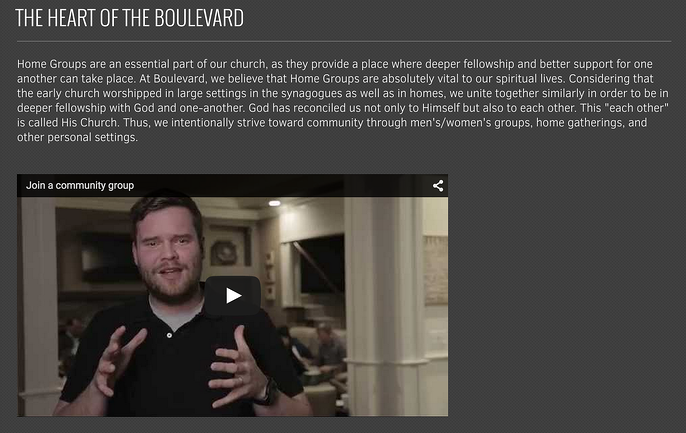 If you ever need to remove the embedded item, simply click the red X in the upper left corner.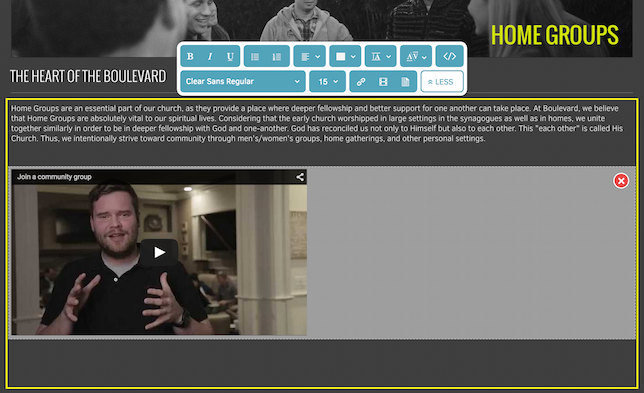 Step 3 - When you're finished, click Close
Some content may not show up within the Greenhouse, be sure to click the Preview button on the top right of your Greenhouse to see your site exactly as your viewers will!
Keep in Mind:
If you are looking for a great embedding resource check out embedresponsively.com. This free tool generates code that is responsive and works well on every site!
The content lives on another website. This means that if the owner of the site the content lives on chooses to pull it down, change URL's, or alter the content in anyway, it will reflect on your site. Be sure to check in on your embedded content every once in a while!
We convert all embedded videos to a 16x9 aspect ratio so that we can properly scale for mobile responsiveness.
Finding the Embed Code
Every third-party source you attempt to embed from will have the embed code for their services in a different location on their site, so you might have to do a little digging to find the content's code. The embed code should look something like this:

If you are looking for some additional help, this article is a great resource for locating embed codes in different 3rd party providers.

Once you've copied the embed code, simply paste it in the text editor wherever you'd like the content to appear.Edit HTML
If you'd like additional control over the code, feel free to utilize the source's site tool as well. In Advanced Mode (or click More from Easy Mode) simply click the Edit HTML button (<></>) and paste your embed code.

Heads up - while this feature was created to give you further custom options for your site it's not guaranteed that whatever you enter will interact well with the entire site. Because this is a more advanced feature, our support team is not able to support issues with custom HTML code. If you aren't super comfortable working with code you might want to avoid using this feature or let someone with a little more experience handle this aspect of your site.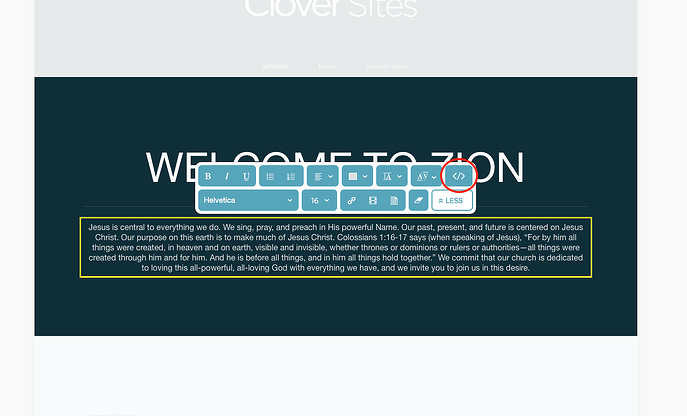 Injecting Code into your Head Code
To add code into your head code instead of the sections of your site, follow the steps located here:
Updated